If you like true stories about faith and redemption, you'll love The Endless Hour. It's one of those books that is much more than the sum of it's parts. You'll find yourself thinking about it long after you've read the last page. You may even feel compelled to look beneath the surface of your own life and reassess what's important and what isn't. Yes, it's that kind of book. - William Greenleaf
An exceptional gift...
What an awe inspiring gift Jesse has shared in letting us into his canvas world. He immediately pulls us in at the very beginning, through childhood innocence, and does not let us go. Not before long do you recognize yourself identifying with Jesse. I kept telling myself 'one more page' each time when attempting to put it down. Yes, it's that good! An amazing read. The Endless Hour is a roller-coaster ride that taps into our self-awareness and stirs deeper emotions. This spiritual journey is a guide for the Jesse in all of us, who are searching... Thank you Jesse. - Katherine Cordova
Looking forward to the screen play!
The Truth sometimes as disturbing as it may be needs to be told. Some of us will accept it and some of us will not. "The Endless Hour" is the true story of a battle with evil. If you ever had to fight with or faced demons then this story is a must read. I would like to quote a famous prophet, " Save Your Soul". Thank you Jesse for sharing your story of struggle and triumphs. - D. Brown
The Endless Hour
The Endless Hour is a captivating book! One you have to read to believe! It is a living testimonial to all, that regardless of where you find yourself in the world there is a purpose for you and as you are on your journey your not alone! What will you choose, Life or Death? - Richard Brinson
Great story , Great message
I was blown away and glad I got the opportunity to read this great piece of work. One of my best reads in quiet some time. Eye opening , soul piercing , truly enlightening. Sent from the Heavens, To the author Godspeed. To the readers get this BOOK. - E T Edwards
Review
We live in a world of order, no matter how we would like to believe we are not dictated by order. Most of us grow up in the church, praise the Lord, trust in our Pastors and believe one day we will go on to be with the Lord in that great place called Heaven. Like tradition we pattern ourselves life after life the same, some never realizing their journey or purpose here in life. I commend Jesse's willingness to be obedient to a different order. Some will receive his message and others will not, but the fact that he chose to share with us his journey is exceptional. The Endless Hour, (the title timeless in itself) takes you through Jesse's spiritual passage into an understanding of several segments of his life, starting through the eyes of a child. No matter where you are in life it is a must read. - Michelle White
The Endless Hour
Awesome. I found this book to be captivating from the very first page. I love the way Jesse tells his story as a young boy. It reminded me of what it was like to see the world through the eyes of a young child.
The book was humorous and suspenseful at the same time. I found myself reading it every spare moment I had. It is an eye-opener to the reality that we not only live in a physical world but a spiritual one simultaneously. I personally, would have questioned my own sanity, had I gone through the experiences told in the later part of th the book. I know for certain, without God's help, I may not have had the strength to endure. - Lorraine Ephesians 6:10-18
Its going to be a Best Seller!!
What a wonderful and captivating book...amazed that the authors name is Battle!!! WOW! Pick it up.....you wont be able to put it down!!! Awesome! - Michele Doerr
Wow
This is a great book...as you follow 'lil Jesse you just want to give him a hug :). This book is awesome and a MUST read, it certainly makes you think and re-evaluate your own life. I couldn't put it down! Great work, Mr. Battle! - Kenisha Smith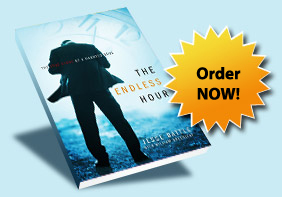 WOW!
This book is AMAZING. I laughed, I cried I felt as I was living it with every page I turned. Anyone who reads this book will see and feel themselves in this book, it truly is about YOU. My words can't describe it enough, this is definitely a book you should read for yourself. - Eric Perez
The Endless Hour
This is an amazing and interesting story as seen through the eyes of an 8 year old boy as he matures into manhood and comes to a profound realization about faith and life. He takes the reader "up and down" through laughter, tears, discovery, and achievements. His faith and tenacity inspire and intrigue the reader, as well as evoke personal soul searching. I highly recommend this book. - Lyn Nelson
Great book to get the mind going.
Absolutely amazing! Gave me a lot to think about! Time to re-evaluate and regroup. - Martine Roy
AMAZING!!!
This book Rocked!! From the start The Endless Hour takes you on a journey! It allows one to reflect and think about the small things in life. I've read several books of this genre before. The Endless Hour comes at you soft and hard at the same time. You will notice that the hairs on the back of your neck will be up and about. Its just a great read! - Rick Carreno
Truly Captivating Story
As you read this book, whether you believe in the spiritual world or not, it leaves you awe. There is a real war for your soul, and The Endless Hour gives you an insight on how real God is, and how real Satan is. The books' message is clear; save your soul, or be eternally separated from God. The messages given to Jesse are a warning to the lost world. From beginning to end, you'll find yourself relating to Jesse's life experiences, and the story never lets you go till you reach the end. Truly real and fascinating to read, but most importantly, this story is about us... - Gerry Pion
Time is running out
I didn't plan on reading this book as quick as i did but it was really hard to put down. While i was reading and even after i was done i couldn't help but think..."what do i need to do to save my soul". It has me looking at life from a different angle, a spiritual angle! - Jabari Ryles
The Endless Hour
Reading this book kept me on the edge of my seat. I found myself not wanting to put it down. The character Jesse is endearing, and his story submerges you in the emotions of a young boy growing up in the 60's, the innocence of childhood,and the brutal realities of life. As you read this book, you find yourself reliving some of your own fears. The Endless Hour will have you searching for the faith, strength, and courage to struggle with your own inner demons. - Lea
Wake up
This is a book that connects your heart and soul that you will not want to put it away. You will find yourself living a journey that touches you in many ways. You will laugh and cry. It is an awesome book that is like a great movie that stays in your mind and you end up watching it again. I definitely recommend it. It will blow your mind. - Marilyn Del Rosario
A Must Read!
Wow, this was a great read. It's hard to believe that a person experienced some of these things and survived to write about it. People take God for granted until he rescues you from devastation and you only have him to thank. - La